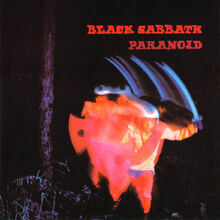 War Pigs is the first track off of Black Sabbath's second studio album Paranoid.
The song's outro is entitled "Luke's Wall" on the US edition.
Overview
"War Pigs" was originally titled "Walpurgis", dealing with a black mass which was based on the Dennis Wheatley novel "The Devil Rides Out" where a group of friends battled Satanists at a black mass on Walpurgis Night which Geezer Butler had read.
The original version was only recorded once on John Peel's radio show in 1970. According to some sources, the band and the record company were concerned with the recent events of the Manson killings. Not wishing to be seen as Satanists or dark occultists in any way, Geezer chose to rewrite the song into an anti-war statement.
The original version of the song can be found on Ozzy Osbourne's compilation album "The Ozzman Cometh" from that same session.
Ward's first memory of playing "War Pigs" live was at The Beat Club in 1968 where the band had to perform multiple gigs and they didn't have enough music written to fill the set, so they play long jam sessions. "War Pigs" was made from one of those sessions.
Lyrics
 Generals gathered in their masses
 Just like witches at black masses
 Evil minds that plot destruction
 Sorcerers of death's construction
 In the fields the bodies burning
 As the war machine keeps turning
 Death and hatred to mankind
 poisoning their brainwashed minds
 Oh Lord yeah
 
 Politicians hide themselves away
 They only started the war
 Why should they go out to fight
 They leave that all to the poor
 
 Time will tell on their power minds
 Making war just for fun
 Treating people just like pawns in chess
 Wait 'till their judgment day comes
 
 Now in darkness world stops turning
 As the war machine keeps burning
 No more war pigs have the power
 Hand of God has struck the hour
 Day of judgment God is calling
 On their knees, the war pigs crawling
 Begging mercy for their sins
 Satan laughing spreads his wings
 Oh Lord yeah

Sources
https://en.wikipedia.org/wiki/War_Pigs
Community content is available under
CC-BY-SA
unless otherwise noted.