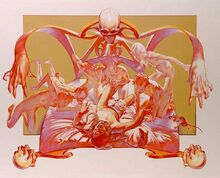 Heyo, I'm Tritnew! But you can call me Miles too. I'm the owner of Black Sabbath Wiki.
I'm a pretty chill and calm person in general, I know my Black Sabbath history and I dig any era of the band.
I love all eras of the band as I said, though my favorites would be the Ozzy, Dio, and Ian Gilligan eras. Overall best in my opinion is the Ozzy era.
Used to be active here and on other Sabbath communities, but got into other stuff. I'll stay semi-active here, but my main priority right now is the Katamari Wiki.
Saw Black Sabbath live on The End Tour on 9/9/16.
Favorite Game Series: MOTHER (1-3), Katamari, Super Mario (and Nintendo games in general), Sonic The Hedgehog, DOOM, Quake, Duke Nukem, Serious Sam, Wolfenstein, and lots more.
Favorite Bands/Artists: Nine Inch Nails (if it weren't for NIN or Trent Reznor, I wouldn't know or love any of these bands as much as I do now), The Beatles, Pink Floyd, Gorillaz, Black Sabbath, Queen, Ozzy Osbourne, David Bowie, Led Zeppelin, and lots more.
My Top 10 Ozzy Era Songs
Supernaut
Lord of This World
Hand of Doom
Moving Parts (Stand Still)
Symptom of The Universe
Black Sabbath
Behind The Wall of Sleep/N.I.B
Never Say Die
Loner
Paranoid
Community content is available under
CC-BY-SA
unless otherwise noted.