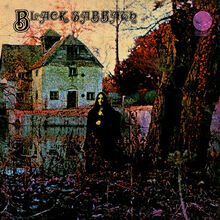 Black Sabbath is the first track off of Black Sabbath's self-titled debut album.
This song is widely regarded as the very first heavy metal song and also the first doom metal song. In 1970 it was released as a four-track 12' single with "The Wizard" on the A-side and "Evil Woman" and "Sleeping Village" on the B-side.
It was released on the Vertigo label.
History
According to the band, the song was inspired by an experience that Geezer Butler had related to Ozzy Osbourne. In the days of Earth, Geezer Butler painted his apartment matte black, placed several inverted crucifixes, and put many pictures of Satan on the walls. Osbourne gave Butler a book about witchcraft. He read the book and placed the book on a shelf beside his bed before going to sleep. When he woke up, he claims he saw a large black figure standing at the end of his bed. The figure disappeared and Butler went to get the book, and it was gone.
A version of this song from Black Sabbath's first demo exists on the Ozzy Osbourne compilation album The Ozzman Cometh. The song has an extra verse with additional vocals before the bridge. The guitar and bass are tuned down one whole step, resulting in the key position of A being played on the fretboard, but having the pitch as G (octave - E flat) to the listener.
It's one of the band's most frequently performed tracks, being featured on every single tour of their career.
Lyrics
What is this that stands before me?
Figure in black which points at me
Turn around quick, and start to run
Find out I'm the chosen one
Oh no

Big black shape with eyes of fire
Telling people their desire
Satan's sitting there, he's smiling
Watches those flames get higher and higher
Oh no, no, please God help me

Is this the end, my friend?
Satan's coming 'round the bend
people running 'cause they're scared
The people better go and beware
No, no, please, no

Black Sabbath (North American edition)
Black Sabbath