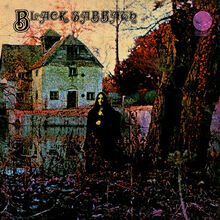 Behind The Wall of Sleep, sometimes referred to as "Behind The Wall" is the third track off of Black Sabbath's self-titled debut album.
The intro to this track is entitled "Wasp".
The song's lyrics are based on H.P. Lovecraft's short story "Beyond The Wall of Sleep".
On the North American version of the album, the song is merged with "N.I.B.".
John Peel Session
On Ozzy Osbourne's compilation album The Ozzman Cometh an live demo recording of the song was released on the limited edition first pressing of the album on the second disc (along with "Fairies Wear Boots").
This renditon is mostly the same as in the 1997 live album Reunion.
Lyrics
 Visions cupped within a flower
 Deadly petals with strange power
 Faces shine a deadly smile
 Look upon you at your trial
 
 Chill and numbs from head to toe
 Icy sun with frosty glow
 Words that grow read to your sorrow
 Words that grow read no tomorrow
 
 Feel your spirit rise with the breeze
 Feel your body falling to its knees
 Sleeping wall of remorse
 Turns your body to a corpse
 Turns your body to a corpse
 Turns your body to a corpse
 Sleeping wall of remorse
 Turns your body to a corpse
 
 Now from darkness there springs light
 Wall of Sleep is cool and bright
 Wall of Sleep is lying broken
 Sun shines in you have awoken

Black Sabbath (North American edition)
Behind the Wall of Sleep